Tsukemono 
Posted on June 29, 2017 by jason toner No comments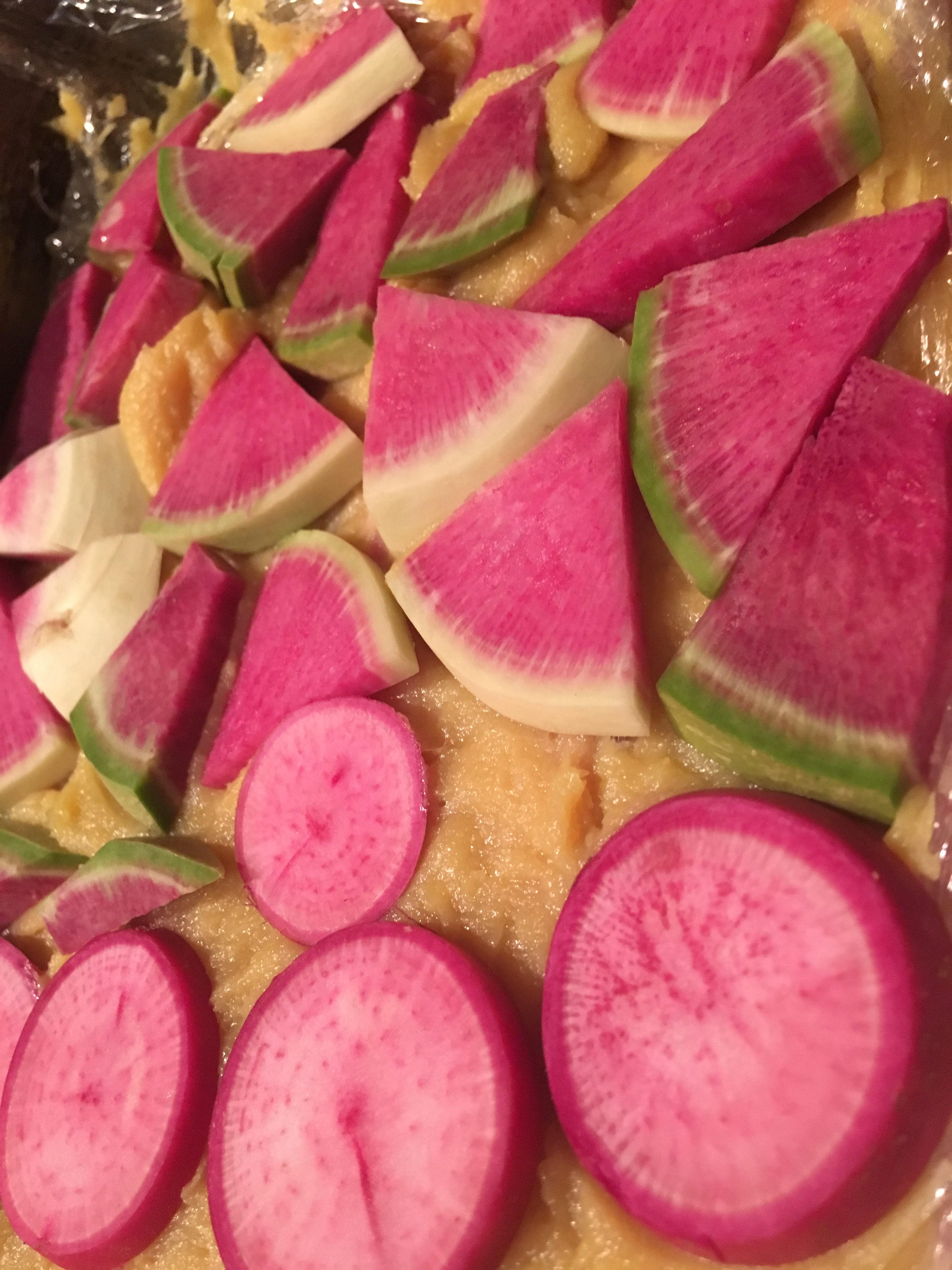 Tsukemono which means "pickled things" are not necessarily pickled as some perceive that notion with vinegar, salt and sugar, although there are examples such as the sushi shop staple "Gari" – young ginger pickled in sugar and rice vinegar- which comes to mind. But these Japanese pickles employ various methods such as salting, brining, beds of rice bran and controlled fermentation to achieve an inexhaustible collection of addictive, texturally engaging viands that have a diverse range of uses and command attention in the role of snack, palate cleanser, side dish, garnish and even a course in their own right within the hallowed Kaiseki course.
Historical records from Todaiji temple in Nara dating some 1700 years  ago speak of Kusahishio, a fermentation/pickling system using soy beans, Koji and salt water for the purpose of primitive tsukemono production as well as Niragi where sake or vinegar are used for a similar yet clearly different outcome. In Nagoya they have a tsukemono ceremony "konomono Kai " where a priest and good country folk put veg and salt into a bottle as they remember their ancestors and the offering of land and sea to the god of Kayatsu shrine that resulted in a eureka moment as deliciousness was discovered way after it should have perished.
A simple strategy for making these viands is to buy what is seasonal therefore inexpensive and abundant and then try different pickling methods on the same vegetable, fish or fruit giving you a crash course and a better understanding of how the various methods work with a given product. In due course your expertise and knowledge will flourish as will your palate and ability to adapt recipes asserting more detail to your preference.
Here is a basic guide of tsukemono candidates enjoyed in Japan by season…
Spring
Asparagus and Aralia cordata AKA mountain asparagus
bamboo shoot
Butterbur
Cabbage (red&white)
Celery
Cauliflower
Cherry blossom & leaf
Fiddleheads
Rape blossom
Turnip
Summer
Apricot
Burdock root
Bell pepper
Cucumber
Eggplant
Ginger root, flower buds, shoots
Okra
Pickling melon(shiro uri)
Plum
Prune
Shallot (rakkyo)
Shiso (red and green)
Sichuan peppercorn(mi zansho)
Autumn
Cabbage
Chrysanthemum
Cucumber
Eggplant
Japanese mountain yam (yama imo)
Lotus root
Shies seed
Squid (shiokara)
Winter 
Apple
Chinese cabbage
Daikon (takuan/bettara-zuke)
Fukujinzuke is an interesting pickled relish with an assortment of daikon, cucumber, lotus root etc
Kombu (matsumaezuke)
Kumquat
Turnip
Yuzu
etc, etc,etc…
http://www.shokujapan.com/recipe/rakkyo-pickled-shallots/ this pickled shallot recipe will send you on your way to classic tsukemono but think about what you like, whats available as a pickling, fermenting, curing medium and make something your own.
These cucumbers and radishes smothered in miso I made were received with ovation and unlike the sometimes challenging and finicky kimchi or sauerkraut, even screw-ups will be edible!